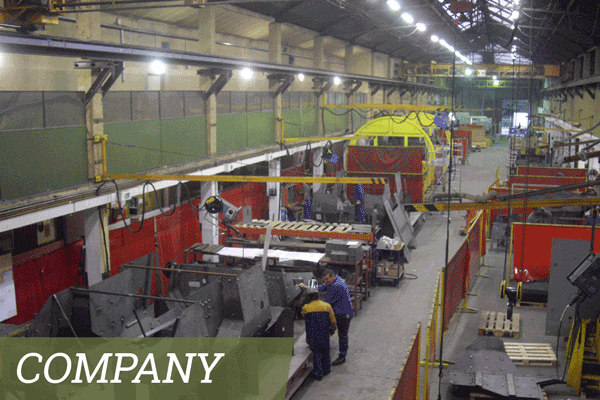 About AMEFO
Established in 1948, AMEFO is a medium sized privately held company specialized in mechanical welding, precision machining and composite materials. Thanks to its two production sites covering an area of 20 000m², AMEFO offers solutions for both the Defense and the Industrial markets.
From prototype designing to series production and final delivery, AMEFO provides its expertise to assist its clients during the development of complex projects involving high technicity.
Owner of several recognized homologations, AMEFO purpose is to offer optimized subcontractor services and create trustworthy partnerships with its clients. AMEFO has become a key player for the Industrial sector thanks to its dedicated teams, its technical competences, its organizational skills and its efficient supply chain.
of offices, workshops and warehouses

Since 2004, AMEFO works together with the PLASAN group, world leader in protection and survivability systems (land and airborne vehicles, vessels, individual protections)
This technological partnership has led to the integration of AMEFO into the PLASAN group in 2012
AMEFO/PLASAN offer innovative solutions to solve survivability issues faced by their clients
AMEFO and PLASAN create and maintain close relationships with their key innovation partners as research institutes and university laboratories specialized in creating new stronger and lighter materials.
AMEFO/PLASAN combine their simulation and testing resources to develop new products and guarantee their quality against any type of threat (IED, mines, EFP, ammunitions etc.).
Enhanced by 70 years of experience, AMEFO has developed skills in various complementary tasks and built its reputation in France and abroad:
Conception and industrialization (CAD Tools: Catia, Solid Edge, Ansys)

Composite and ceramic parts manufacturing
Tailor made quality services are ensured by efficient and recognized work organization methods. AMEFO interacts with its partners at each stage of the project and provides full transparency of its operations:
Study/validation/prototype
Production of various composite material:
High performance polyethylene: Dyneema® UD, Endumax®, Spectra Shield®, Tensylon™
Custom made dimensions to fit any equipment or vehicle
Available in assembly kit or integrated by AMEFO on the in-house production line.
Ballistic research & development
AMEFO's R&D team independently develops steel and composite based armor solutions complying with the "Special France" requirements and NATO classifications. Lighter and leaner, those solutions optimize its production level and can be more easily integrated inside the vehicle.
AMEFO relies on its research discoveries that are evaluated in European testing centers such as the national test facility of Saint Etienne, TNO testing facilities in Hollande etc.
AMEFO uses PLASAN's computing and testing resources if necessary:
Ballistic test facilities:
2 shooting tunnels, 30m long

Testing capacities from 9mm to 30mm calibers

Slow motion cameras with X ray imaging system

Environmental test chambers
Mines and IED blast testing:
Reduced scale tests on specific parts or entire vehicles

Vehicles test's instrumentation: accelerometer, anthropomorphic mannequin
Materials characterization and their method of assembly:
Static tests: bending, traction, compression, cutting

Dynamic tests: planar impact test, split Hopkinson pressure

Physicochemical characterization: Differential Scanning Calorimetry (DSC), infrared spectroscopy
LS Dyna: Materials and vehicles behavior modeling to study ballistic impacts or mine/IED blast blowing effect

Condat: vehicle area protection coverage
Certifications and qualifications
Renowned International certifications and qualifications to guaranty work efficiency, requirements compliance and risks management:
ISO EN 3834 (welding quality requirements)

EN 15085 (Railway applications)

Standard and armored steel welding qualification to comply with client's requirements following NF A 80-200 standard

Dye check ASME and COFREND 2 certifications

PQR (Procedure Qualification Record) following NF EN ISO 15614 standard